Total views 304. Views today — 1.
The Armed Forces of Ukraine destroyed 420 russian occupiers, as well as 6 helicopters and 33 enemy drones over the day. This was reported on October 13 by the AFU General Staff.
It is noted that during the day, Ukrainian defenders destroyed 6 tanks, 11 armored combat vehicles, 17 artillery systems and 2 enemy MLRS systems, as well as 9 vehicles and fuel tanks. In the air, Ukrainian defenders shot down six helicopters and 33 tactical UAVs.
In total, the rashists have already lost 63 800 people killed since the beginning of russia's full-scale invasion of Ukraine.
Also, during the seven months of the war, Ukrainian troops destroyed 2 511 tanks, 5 167 armored fighting vehicles, 1 556 artillery systems and 357 MLRS, as well as 183 anti-aircraft warfare systems.
In addition, the russians lost 3 935 units of vehicles and tankers, as well as 140 units of special equipment.
At sea, during the entire war, the occupiers were left without 15 ships and boats, and in the air - without 268 aircraft, 240 helicopters, 1 182 tactical drones and 316 cruise missiles.
The russians suffered the greatest losses over the past day in the Kramatorsk and Kryvyi Rih directions.
Also, the General Staff noted that the data on the losses of the occupiers were corrected on the eve - the new data take into account these adjustments.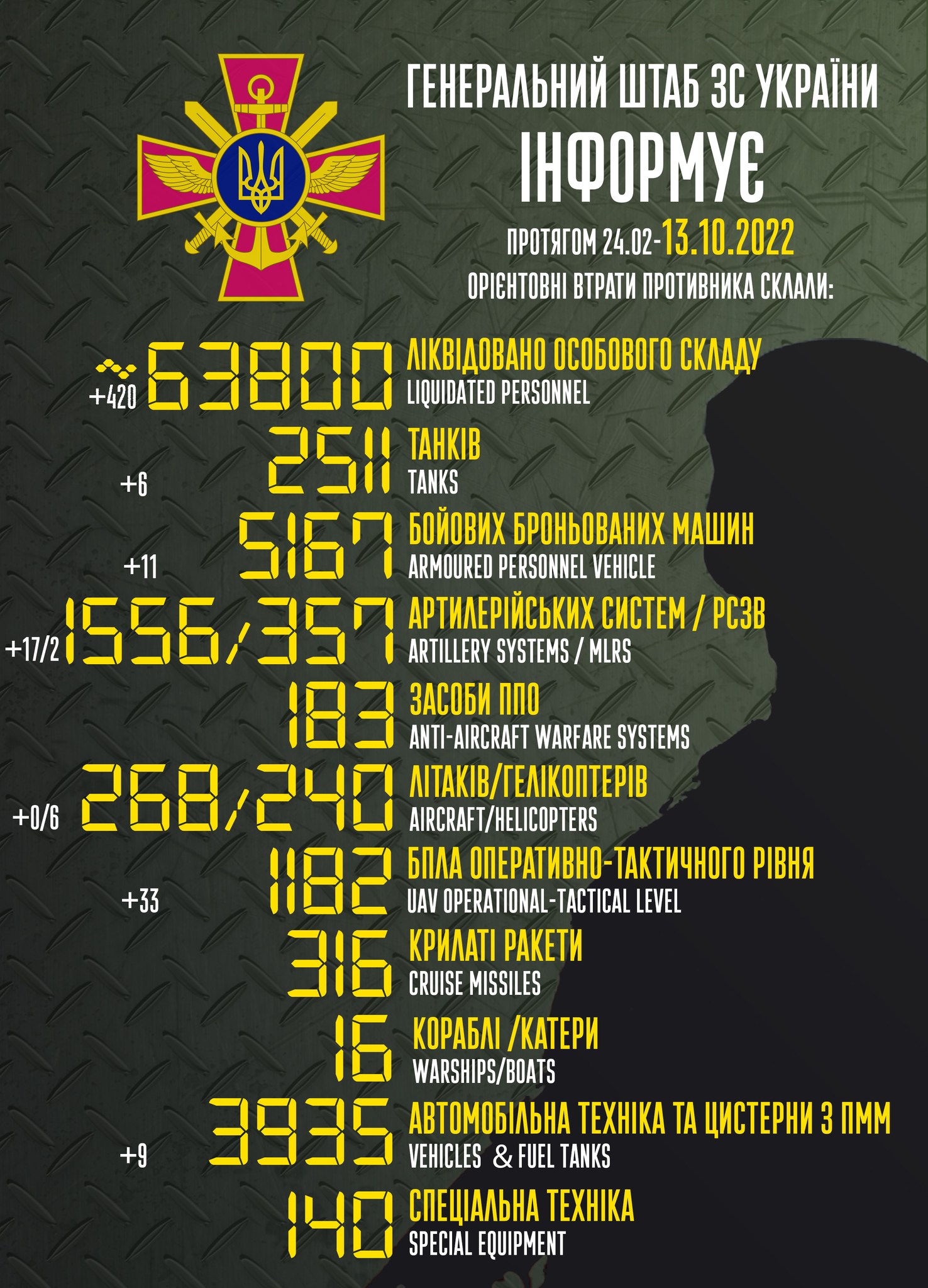 Let us recall that earlier, it was reported that the air defense forces shot down 4 helicopters and 26 drones of the occupiers over the day.