Total views 400. Views today — 0.
The Armed Forces of Ukraine destroyed 150 russian invaders over the past day. This was announced on August 14 by the General Staff.
"The total combat losses of the enemy from 24.02 to 14.08 approximately amounted to: personnel – about 43 550 (+150) people liquidated", - the message says.
Also, the day before, Ukrainian defenders destroyed 8 tanks, 11 armored fighting vehicles and 2 artillery systems, as well as 3 vehicles and tank trucks. In the air, the rashists lost 1 helicopter and 5 tactical level UAVs.
In total, since the beginning of russia's full-scale invasion of Ukraine, the rashists have lost 43 550 people killed. Also, during more than five months of the war, Ukrainian troops destroyed 1864 tanks, 4126 armored fighting vehicles, 980 artillery systems and 261 MLRS mounts, as well as 136 air defense systems.
The russians also lost 3 039 units of vehicles and tank trucks and 91 units of special vehicles. For the entire time, the invaders lost 15 ships and boats at sea and 233 aircraft, 194 helicopters, 784 tactical drones and 187 cruise missiles in the air.
The General Staff noted that the occupiers suffered the greatest losses over the past day in the Donetsk direction.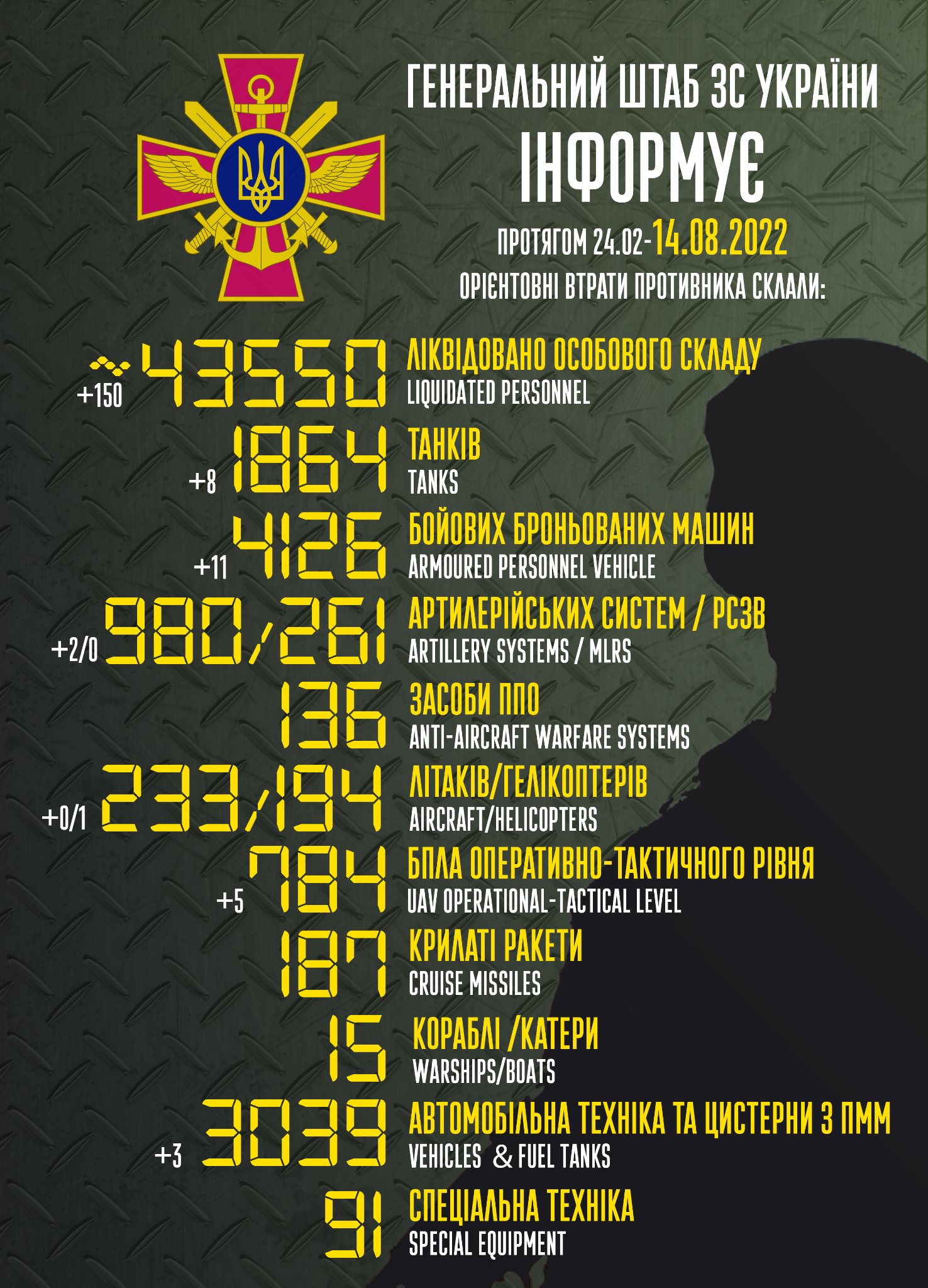 Let us recall that earlier, there was information that the occupiers would not be able to resist the AFU counteroffensive after strikes on bridges in the Kherson region.