Total views 614. Views today — 1.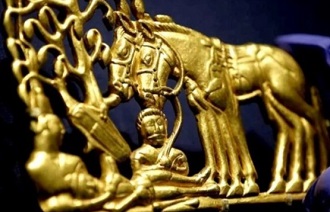 The Amsterdam Court of Appeal has delivered a judgment in Ukraine's favor in the "Scythian gold" case, which had been pending for seven years. This was reported by RBC-Ukraine with reference to the Dutch media.
According to the court decision, the collection of the Crimean museums should be transferred to the state of Ukraine.
This refers to more than 560 items from the museum fund of Ukraine, which have been located in the Netherlands since 2013. Basically, these are archaeological finds, the cost of the collection is about 10 million euros.
Among other artifacts to be returned to Ukraine, there was a golden "helmet" found in the Ukrainian Donbas by an archaeological expedition of the Donetsk State University. It was returned to Ukraine earlier, in pre-trial order. The subject of the trial in Amsterdam was "Scythian" gold from the Crimean museums. After the occupation of the peninsula in 2014, the Russian authorities announced that the exhibits taken out for the exhibition now belong to Russia.