Total views 863. Views today — 0.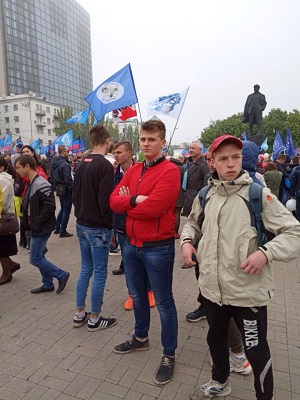 Leader of the so-called "Communist Party of the DNR" Boris Litvinov was not allowed to participate in the May Day rally in the center of occupied Donetsk. This was written by creator of the terrorist Vostok Battalion Alexander Khodakovsky in social networks.
"Yesterday in Donetsk, communist leader Litvinov was not allowed to stand on the podium during the rally by allegedly "people's guards" - organization upon analog of "Ours", created to perform shadow tasks. Not the police, but young sporty boys surrounded the middle-aged man, deputy of the past of the "people's council", one of the active participants in the events of the fourteenth year, and held him until the rally was over and the people were dismissed", - the militant was outraged.
"I am outraged by the purely human side of the incident - the government recruits young people to solve political problems. Stupid, immature, unable to recognize whether they act badly or well. Just stupidly executive and drawn to violence… In this case, the DNR authorities raped themselves", - Khodakovsky wrote.
As previously reported, paramilitary groups of militants, officially called "voluntary people's guards", are being formed from sporty youth in the occupied territories of Donbass.