Total views 1079. Views today — 0.
Luhansk separatist Arsen Klinchayev, who personally supervised the raising of the Russian flag over the building of the Luhansk Regional State Administration seized in March 2014, was seen in the studio during the programme of one of the Russian federal TV channels. It was reported by journalist Sergei Ivanov in the blog atTsenzor.net.
The deputy of Luhansk Regional Council Arsen Klinchayev was detained by the SSU on March 10th, 2014 in Luhansk. Luhansk radical organization called Molodaya Gvardiya together with "Russian tourists" captured state administration and forced Governor Vladimir Pristyuk to resign.
Later Klinchayev was brought to Kiev and placed in jail, but the court changed the measure of restraint for him to house arrest. Klinchayev was seen again in Kiev in restaurants with women, at the beach on the banks of the Dnieper when he was grilling kebabs.
"But then he disappeared. Compatriots and not only they began increasingly to ask me the sacramental question." Where is this monster?" I was trying to find his location through my own channels, but I didn't get reliable data," – said the journalist.
According to him, he saw Klinchayev on one of the programmes of Russia 1TV channel, where the leader of the LDPR RF Vladimir Zhirinovsky made a speech.
"He was sitting directly behind Zhirinovsky, with whom they are similar due to clinical idiotism and bully aggressiveness. At 02.31 aggressiveness it can be clearly seen how Klinchayev absorbs nonsense by Kremlin madman with reverence and joy," – wrote the journalist.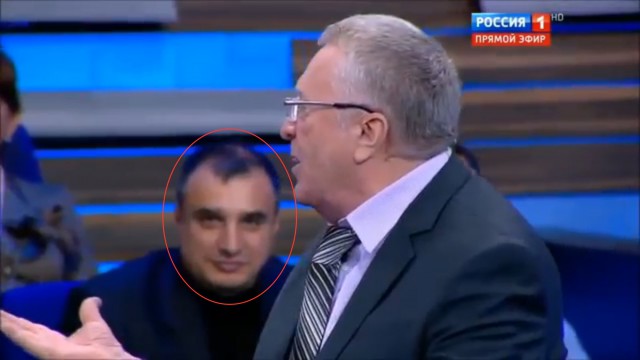 Video dates back to September 15th, 2016
"This is an important witness in Yefremov's case, with whom he had been working closely for over 10 years. Klinchayev's Molodaya Gvardiya took an active part in holding "Russian spring" on the territory of Luhansk region that was also funded by Yefremov's clan," – said the journalist.