Total views 1197. Views today — 0.
A well-known religious studies scholar Ihor Kozlovsky from Donetsk has been imprisoned for more than a year.
Kozlovsky, who did not have the opportunity to leave Donetsk and, according to his relatives, led the "life of an ordinary pensioner" there since the autumn of 2014, was taken on January 27, 2016.
Unknown persons blew up the monument of Lenin in the center of the city in the early hours of the 27th – this became a signal for the "republic" for demonstrative repressions. Kozlovsky was at that time one of the few remaining prominent people in Donetsk. This is the only logical explanation why they came for him.
It is still thoroughly unknown what the scientist is accused of, but two "court" sessions with regard to his case have already been held in Donetsk…
Ostrov asked the nephew of Ihor Kozlovsky, Denys Kozlovsky about the circumstances of this case.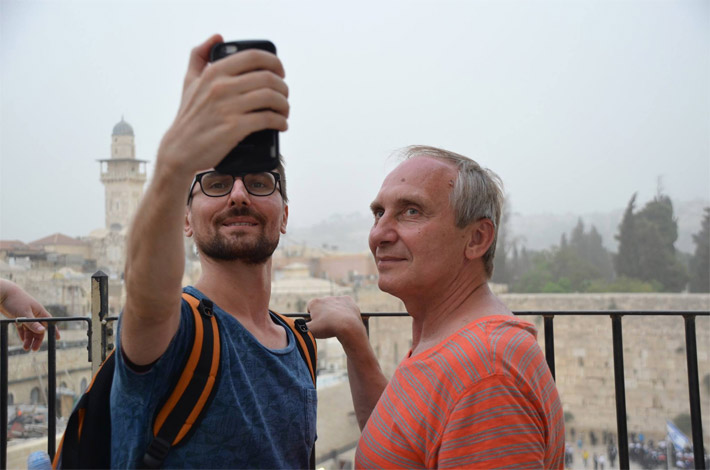 Denys Kozlovsky together with Ihor Kozlovsky. Photo: Facebook
— Denys, what did Ihor Kozlovsky do, let us say, from 2013 before his arrest?
— Ihor Kozlovsky held classes at Donetsk National Technical University. He was the vice-principal at the Institute for Artificial Intelligence for a long time. He became the lecturer of DNTU when this institution was decided to be liquidated and attached to Donetsk Technical University in the days of Yanukovych.
He also had Discovery Center, which he leads and where he gave classes as a lecturer. He has several dozens of regular students, they were joined by new students. There was a very wide range of topics from the revelations of St. John to Ayurveda. He was a great specialist in this respect. For example, a new book on yoga was published once a month following the results of yet another seminar.
He also led an active religious studies activity. In particular, he was the organizer of the Center for Interfaith Dialogue, within the framework of which "round tables" with participation of representatives of different confessions were held. He regularly participated in academic conferences.
He and several likeminded people organized the Interfaith Prayer Marathon "For Peace and Unity in Ukraine" after Maidan, and this Prayer Marathon ran continuously from morning till night from March to October 2014 when the war was already on. The priests were kidnapped from there, put "on the basement", tortured for several weeks, and then released.
— Did someone threaten Ihor Kozlovsky during that time period?
— In my understanding, they threatened everyone who took part in the marathon. They destroyed the tents, tore off the flag of Ukraine.
— At least two people from there were captured – Serhiy Kosiak and Serhiy Kulbaka. Ihor Kozlovsky was not touched at that time. And was he not afraid to stay in Donetsk?
— He was not afraid to stay in Donetsk, because he did not conduct any activities that could be considered hostile to the regime. He lived the life of an ordinary pensioner after it became clear that the Marathon can no longer be held, that it is too dangerous.
— Why did not he leave?
— His eldest son is half paralyzed and has Down syndrome. He has not gotten outside since 1998, he needs constant special care. It was difficult to understand how he would come through the moving even for 300-400 kilometers. Ihor Kozlovsky did not want to risk.
—His wife said at the briefing that he had already decided to leave Donetsk by the time he was detained.
— Talks about this were held. We met with him in November of 2015. He came to Kyiv to an academic conference. Every time we discussed this, we, of course, said that it is necessary to leave, that it is dangerous to be in Donetsk.
— Was there any signal from the other side that he can be detained?
— No.
— Detention occurred soon after the blowing up of the monument of Lenin. So his address was known and not forgotten.
— It is hard for me to judge this, because I have nothing but conjectures. We have no idea how everything is arranged there and why this happens.
— What do you know about the circumstances of his arrest? Who was the first to get to know about this?
— It was one of his students who supposed to call him. He did not pick up the phone and did not call back for a long time. This usually does not happen. One of his friends who was nearby was sent to find out what was the matter when he did not answer and did not call back an hour or two later. It became known that strangers were making a search in the apartment.
— How did the information get into the media? Do I understand rightly that the family wanted to shun publicity at first?
— Due to the fact that he is well known in Donetsk, many people who work in the mass media either were his students or took some of his classes. In addition, simultaneously with him volunteers from "Responsible citizens" organization were detained. Media presented it as a related event. Therefore, people began to talk about his arrest.
— When was the first time he was permitted to contact you?
— Never.
— But he called you.
— This does not mean that he was allowed to contact anyone officially.
— Visitors are also not allowed?
— No. Only a lawyer.
— You hired him?
— Yes, we did.
— That is, they are trying to create the image of a civilized process.
— I think, from their point of view, they have a rule of law there. "Everyone has the right for protection" and all that. They have several lawyers who are accredited to work in the territory of the "republic", and this is one of them.
— And does it make sense?
— Only from the point of view that there is at least some access to Ihor Kozlovsky. This is the best we have for now.
— Did I understand correctly that at first there were some formal attempts to achieve his release?
— At first, there were just informal attempts to release him. Unfortunately, I cannot tell about that. Soon it became obvious that we cannot achieve anything through informal channels.
The situation is such that if you immediately include a person in the system, then informally you will not achieve anything. We wanted to act as quickly as possible. We did not think that the case would get to such a scale.
— What is he accused of? As I understood, the accusation "evolved" somehow.
— It is all at the level of conversations. We did not see any signed documents. Allegedly, the "investigation" accuses him of storing two grenades.
— That is, according to the "investigation", Ihor Kozlovsky was a member of a criminal gang that blew up a monument to Lenin.
— They say nothing about this at all — how they wanted to make it up and how they wanted to file it.
— There must be some explanation, why they detain namely Ihor Kozlovsky and do not want to release him.
— This is a question that has no answer. There is no point in making conjectures. It can only harm.
— They did not try to blackmail his relatives, make any demands? Maybe they wanted something from him?
— We do not know what they wanted from him, we were not informed about this. No one ever contacted with the relatives on their own initiative. Only after his wife contacted their Ministry for State Security for dozens of times, she was given some small portions of information, and it was confirmed that he was being detained there.
— What are the conditions there?
— I can only tell what I heard from the lawyer. For example, for a long time he was kept in a cell for those who are serving life sentences. It was a basement room with condensation on the walls.
— Does he have any health problems?
— Apparently. We do not know anything for sure.
— When he contacted you, he did not tell you about that?
— He cannot talk about anything. He is constantly in a room with other people, it is not clear who listens to him. That is, all these conversations are just a chance to hear his voice.
— That is, he is not alone in the cell.
— There are four of them in the cell all the time.
— You could not achieve the release of Ihor Kozlovsky with informal methods, did not get effective help from Kyiv, and therefore decided to bring this topic to the media.
— A year has passed and it became obvious that efforts on our part did not lead to anything. It was still impossible to control the publicity. Now we do not hold it back and we also try to get publicity in the international media, which can raise this topic to another level and bring it to the participants of the negotiation process in the Normandy contact group.
— Are there any changes in his situation or in conditions of detention due to this?
— Absolutely none. Now they are holding legal proceedings. The first court session was held. On March 3, there had to be a second one, but it was postponed because of the lawyer's illness.
— Is there is a chance that Ihor Kozlovsky will be included in the lists for exchange after his "verdict"? Do you have any idea how long this "trial" can last?
— No. Throughout the year, every two months his arrest was prolonged. Similarly, you can postpone the court sessions. This process can last forever.
— Is it closed?
— It is not written anywhere, and our relative went there. At that latest session, which was postponed.
— That is, she did not see Ihor Kozlovsky?
— She did not see him. He will not be taken to the court sessions.
— How can this be?
— They say that this will be held in a videoconference mode.
Interview by Yuliia Abibok, OstroV